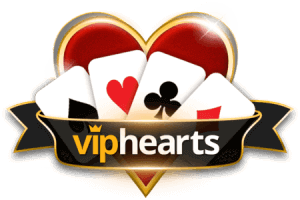 Play Hearts Card Game Online
Hearts is one of the most famous, 4-player, trick-taking card games played around the World. The goal of the game is to avoid penalty points at all costs.
Hearts game is played with all 52 cards of the standard French deck. In each suit the cards rank from higher – the Ace to lower – the Two.
Each "Heart" suit card is worth 1 penalty point. The special card is the Queen of Spades, and it counts for 13 penalty points. All other cards have no value. There is no Trump Suit in the game.
For more information on how to play, please visit our Rules Page.
You can play for free Hearts Online with thousands of other players. Choose a prefered game mode, and improve your skills for free.
Leaderboards by players and countries
VIP Hearts best players of the past week
| # | Player | Points |
| --- | --- | --- |
| 1 | Gohearts | 478 |
| 2 | cetin16 | 415 |
| 3 | Hearter29 | 301 |
| 4 | EdgarP4172 | 276 |
| 5 | BlingBling | 255 |
| 6 | Wazikhya | 255 |
| 7 | JackieC9316 | 251 |
| 8 | cernia | 243 |
| 9 | EricV640 | 233 |
| 10 | Vipgujjar | 225 |
🇺🇸 United States
🇨🇦 Canada
🇬🇧 United Kingdom
🇩🇪 Germany
🇫🇷 France
🇹🇷 Turkey
🇮🇳 India
🇦🇺 Australia
🇵🇰 Pakistan
🇮🇹 Italy
Terms and slang in Hearts
As any game that stood the test of time, Hearts has it's own slang and terms, seasoned players are familiar with. For your convenience, we have compiled a list with some of the most common terminology to help you when you train or play Hearts.
💔 Breaking hearts
This term refers to discarding the first heart in the game, thus allowing Hearts to be led after that.
👑 Smoking out the queen
When players lead with lower Spades in a try to lure out the player holding the Queen of Spades.
🌑 Shooting the moon
Winning every penalty card, scoring 0 points and adding 26 to every opponent.
The term Slam the moon is also used for this.
♦️ Painting the trick
Discarding a penalty card on a trick, that doesn't start with a heart or a Queen of Spades.
Alternative Names of the game
Hearts card game is played worldwide and as such a famous game, it has different variations and names. Here are the most famous alternative names of the game, as how some countries know and play it:
In Australia it is called Rickety Kate.
In Great Britain, they call it Black Maria. Dirty lady or Slippery Bitch are also used.
Dame de Pique is the name they use in French Canada.
Played by slightly different rules, in China this game is known as Gong Zhu (Catch the pig).
TRAIN FOR FREE OUR HEARTS CARD GAME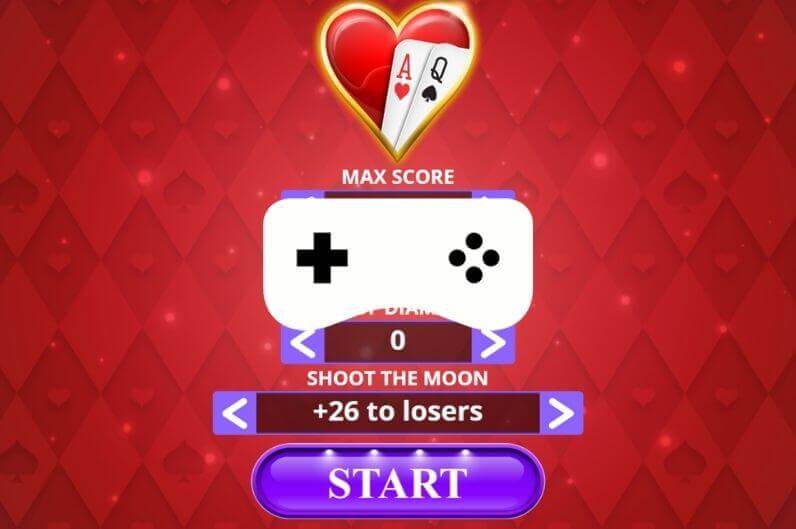 Click to start the game
Share your opinion for Hearts variations and rules from those sources or other, and gain an additional free bonus of 1500 chips+3 days VIP:
Mail us your opinion with the code: vipweb_hearts + your user name.
(Please note that this bonus is only for new users and we can identify if there is an existing account.)
Play Online on any device
VIP Hearts is a true cross-device platform. This means you can enjoy it with the same account on your phone, your desktop computer, or even your Smart TV.
You can download Hearts online from the Appstore or Google Play, or you can play directly in your browser without any downloads or plugins. The game runs smoothly on any resolution and on any device.
Key options of the platform
Use of a random card dealing system with real shuffling.
The users can play with the same account on different devices and browsers.
Players can participate in weekly tournaments and rankings.
The registered users receive daily rewards.
All users can resume their games after connectivity issues.
It is possible to play with the computer and practice for free.
The players can use additional features to play with friends.
For the vip players there are social options as presents, gifts and emojis.
Interesting posts from our Official Blog
Topics include tips, strategies, patch notes, and facts from the world of trick-taking card games.